Fri., Oct. 21, 2011, 10:42 a.m.
President Declares End Of Iraq War
President Obama announced Friday that the United States will withdraw nearly all troops from Iraq by the end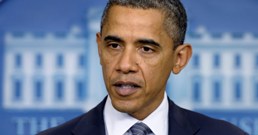 of the year, effectively bringing the long war in Iraq to an end. "After nearly 9 years, America's war in Iraq will be over," said Mr. Obama, who said the last American troops will depart the country "with their heads held high, proud of their success, and knowing that the american people stand united in our support for our troops" by January 1st. "Our troops are finally coming home," he added, saying they "will definitely be home for the holidays." America has withdrawn nearly 100,000 troops from Iraq already as part of the current draw-down, and about 40,000 troops - who are deemed "non-combat" - remain/Brian Montopoli, CBS News. More here. (AP photo)
Question: With Osama bin Laden dead, Moammar Gaddafi dead, and the Iraqi war almost over, is it time to give President Barack Obama credit for running U.S. foreign policy well?
---
---