Mon., Oct. 24, 2011, 8:14 a.m.
Blanchette: Cougs Deserved Boos
Since they let the fans pick the uniforms online last week, maybe the next step for the Washington State Cougars is to let them call the plays from the stands. On the next-to-last snap before halftime here Saturday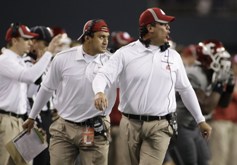 night, quarterback Jeff Tuel ducked and wiggled and shuffled to buy himself more time for a pass downfield, and what he bought himself was a long incompletion and a vicious lick from Oregon State linebacker Tony Wilson. One second remained and WSU coach Paul Wulff, even with a timeout in his pocket, either out of compassion or common sense ordered Tuel to take a knee on the final play rather than wager on a miracle from midfield. And thousands among the 49,219 gathered – egads, they drew more here for Grambling – for the misbegotten idea of the Cougs ceding a Pacific-12 Conference home game off campus booed/John Blanchette, SR. More here. (AP photo: Coach Paul Wulff, right, protests an unnecessary roughness penalty)
Question: Is it time to get a new coach and a new direction for Washington State?
---
---