THURSDAY, OCT. 27, 2011, 4:08 P.M.
Speaker Seeks Tolerance For Muslims
Daisy Khan thought moderate American Muslims like her were making progress in their efforts to gain a place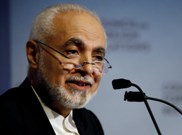 in United States society. That was before her husband, Imam Feisal Abdul Rauf (pictured in AP file photo), whose Mosque is 12 blocks from Ground Zero in New York, announced plans to build an Islamic Center only two block from the former site of the World Trade Center. The news prompted a wave of anti-Muslim sentiment nationwide that still has not subsided, said Kahn, executive director of the American Society for Muslim Advancement. "The struggle for acceptance is the cross we Muslims bear in America today," Kahn said Thursday at a conference convened by the Frank Church Institute at Boise State University/Rocky Barker, Idaho Statesman. More here.
Question: Are you tolerant of American Muslims?
---
---