Fri., Oct. 28, 2011, 1:21 p.m.
Feds Sue Phil Hart Over Unpaid $550K
You can read my full story here at spokesman.com on the U.S. Justice Department's lawsuit against Idaho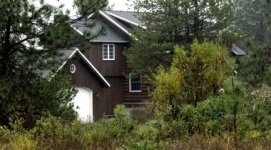 Rep. Phil Hart, which seeks to foreclose on his log home in Athol for more than half a million in back federal income taxes, penalties and interest. Through Oct. 31, 2011, the complaint says, Hart owes the IRS $549,703.48, for back taxes from 1996 to 2008. Hart wasn't immediately available for comment. He's also fighting the Idaho State Tax Commission over more than $53,000 unpaid state income taxes, penalties and interest; though he's lost repeatedly, his appeal to the Idaho Supreme Court likely will come up for a hearing in April. The federal complaint also asks the court to set aside the "fraudulent transfer" of the home to various parties including the trust, determine that the trust is a "sham entity"/Betsy Russell, Eye On Boise. Complaint here, courtesy of Brad Iverson-Long/Idaho Business Review. (SR file photo, of Phil Hart's Rathdrum home)
Question: Does this make state Rep. Phil Hart a greater hero in Tea Party circles? Or are fair-minded Tea Partiers beginning to see through this guy?
---
---