Mon., Oct. 31, 2011, 12:50 p.m.
Rammell: Put Shock Collars On Cops
Rammell's latest missive to the media says Americans are "brainwashed" to sheepishly follow immoral laws and that he'll stay in the news crusading for legal reform. A perennial losing candidate for high office, Rammell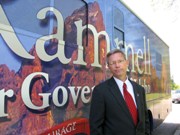 was convicted of poaching and criminal contempt this summer, prompting his August essay predicting "blood in the streets" and collapse of the US government. His Halloween message focuses on his legal reform ideas. Writes Rammell: "There are too many laws and regulations and our policemen, prosecutors, and judges need electric shock collars to remind them that we are not all criminals!" Rammell calls himself proud of his reputation as Idaho's "poster child for government insubordination"/Dan Popkey, Idaho Statesman. More here.
Question: A Facebook Friend asks why Idaho Republicans more or less have rejected Rammell but continue to back Rep. Phil Hart. Anyone?
---
---