Thu., Sept. 1, 2011, 1:16 p.m.
Save Dike Road Trees Drive Begins
Terry Harris/Kootenai Environmental Alliance has just launched an online petition drive to save the viewtiful ponderosas and other trees along Rosenberry Drive (NIC Dike Road) from U.S. Army Corps of Engineers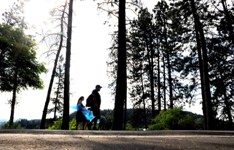 clear-cutting dictate. Petition language reads: "We, the undersigned, object to the levee vegetation policy as currently implemented by the U.S. Corps of Engineers, which would result in the removal of hundreds of trees along the Rosenberry Drive levee embankment in Coeur d'Alene, Idaho. The trees are not a danger to flood control and they provide the city with significant and irreplaceable environmental, aesthetic, and recreational values to our community. We urge your reconsideration of the policy so that we may preserve our trees." More here. (SR file photo: Kathy Plonka)
Question: Are you interested in signing and/or circulating the petition?
---
---