Thu., Sept. 1, 2011, 9:18 a.m.
Vandals Host Hum-Bowl Rival Tonight
On the first day of fall camp last month, Idaho football coach Robb Akey approached Brian Reader – a senior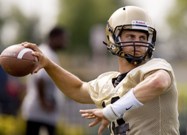 who bided his time behind a four-year starter – and supplied a clear message. "I remember the first practice we had out here," Akey recalled last week. "I said, 'We gave you the keys (to the offense) back there in the spring and you started driving. I want you to drive the damn thing fast now – and drive it like an Escalade, a fast Escalade.' " Just how well Reader has adjusted to his new role as the Vandals' top QB – and how the offense has adjusted to him – will start to manifest itself tonight at 6, when Idaho kicks off its season by hosting Bowling Green in rematch of the memorable 2009 Humanitarian Bowl/Josh Wright, SR. More here. (Moscow-Pullman Daily News file photo: Dean Hare)
Question: Any predictions about tonight's game or the 2012 Vandal season?
---
---