Tue., Sept. 6, 2011, 8:24 a.m.
Sacto Rubs Corps Nose In Own Study
Coeur d'Alene isn't the only community miffed at the loopy demand by the U.S. Army Corps of Engineers to clear-cut viewtiful trees from flood prevention levees. Sacramento, Calif., is, too. The corps, as you may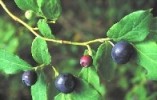 recall, freaked out after Hurricane Katrina, ordering communities to remove trees and vegetation from levees (like the ponderosas on Coeur d'Alene's waterfront dike road), claiming the vegetation destabilizes them. Cash-strapped California communities and flood agencies could spend millions of dollars removing trees and shoring up levees to meet the corps' inflexible demand. In an editorial urging the corps to revise its levee policy, the Sacramento Bee pointed to a study conducted by the agency that shows some levees are strengthened, not weakened, by trees. The Bee concludes that corps muckety-mucks should heed the findings of their own study and "develop a more flexible, case-by-case policy for levee maintenance nationwide." Bingo/DFO, Huckleberries. More here.
Weekend SR columns:
---
---