Wed., Sept. 7, 2011, 3:25 p.m.
Huckleberries Hears …
... That Coeur d'Alene Carousel Foundation is pressing the Coeur d'Alene City Council behind the scenes to construct a 12,000sf building for the historic city carousel -- at Independence Point. It might be an issue that's bubbling under the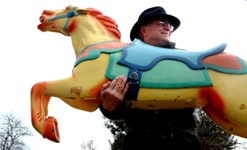 surface for this year's council race. No formal request has been made. Nancy Edinger, wife of Councilman Ron Edinger left a message for Huckleberries this PM to say that a site closer to the Human Rights Institute has been considered but not Independence Point. At last night's council meeting, Councilman Edinger called from the audience Rita Sims-Snyder (who's fighting the Bloem administration tooth & nail to scale McEuen Field changes way back) to discuss Carousel plans. It'll be fun to see the Carousel spinning again. BUT not at Independence Point. I can't imagine constructing a building that would obscure the current view of the lake (as was the case in the old days when Templin's restaurant and the bungalows behind it hid the view). There's gotta be a better place for the Carousel than Independence Point. (SR file photo/Kathy Plonka: Coeur d'Alene Carousel Foundation President Richard Le Francis carriesa carousel horsenear Independence Point on Monday.)
Question: Where to you think the Carousel should go?
---
---