Wed., Sept. 7, 2011, 1:20 p.m.
Madonna Dislikes Hydrangeas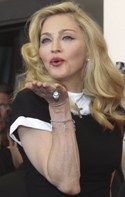 Sorry, hydrangeas: Madonna's just not that crazy for you. Just days after a video of the multi-hyphenate dismissing a bouquet of hydrangeas from a fan went viral, a rep has released a statement regarding the floral spurn, which occurred at the Venice Film Festival. (Madonna was at the fete premiering her film W.E.) Said the rep in a statement to CNN: "She's entitled to like any flower she wants and she didn't want to hurt the feeling of the hydrangeas of the world … No disrespect to the hydrangeas lovers of the world but she prefers different types of flowers"/Kate Ward, PopWatch. More here.
Question: Do you grow hydrangeas?
---
---