Thu., Sept. 8, 2011, 10:56 a.m.
Christa Busted For Speeding
A funny thing happened to Christa Hazel, new VP for the Bryan Elementary PTA, on the way to school Wednesday morning -- she got popped by CPD Blue Pat Sullivan for speeding 11 mph over limit @ 11th &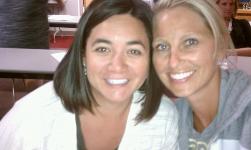 Harrison (not a school zone). At which point she had the choice of a $85 ticket that would go on her record and would be considered by her insurance company. Or a $75 ticket plus 3-hour traffic school with the ticket not reported to insurance. She was forced to make the choice on the spot, with a bus load of children passing by with their little faces pressed against the windows, waving. She picked the traffic school, taught by Officer Nick Knoll. The traffic school, Christa told Huckleberries, provides plenty of insight about what our CDA PD encounters while on traffic patrol. Christa was "classmates" with her best friend, Angie Phillips, who was also popped for going 11 mph over the speed limit recently. Believe it or not, The two once attended a NASCAR-type racing school for a week. Adding insult to injury, Christa's children begged her not to tell hubby Joel about the ticket until they returned from school to witness the spectacle. (Photo: Christa Hazel, left, and Angie Phillips)
Question: When did you last get a speeding ticket?
---
---