Thu., Sept. 8, 2011, 1:15 p.m.
Poll: Obama Worse Than Carter
Two new polls today find that just one third of the public feels President Obama deserves re-election while five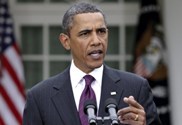 times more Americans think Obama has done a worse job fixing the economy than Jimmy Carter, the modern era's Herbert Hoover. Washington Whispers contributor John Zogby tells us that his new polling is spirit-crushing for the depressed White House. "It was a very bad week for Barack Obama. Our polling shows his job approval at 39 percent and the percentage saying he deserves re-election at 33 percent, both the lowest of his term, while the percentage of voters saying the nation is on the wrong track reached a high since he took office at 75 percent," he said/Paul Bedard, U.S. News & World Reports, Washington Whispers. More here. (AP file photo: of Barack Obama)
Question: What can President Obama, who plans a major speech on jobs and the economy tonight, do to turn the economy around before it's too late for his presidency?
---
---