Fri., Sept. 9, 2011, 8:17 a.m.
Corps Study: Trees Sometimes Help
A new study by the Army Corps of Engineers says that trees growing on levees can strengthen the flood-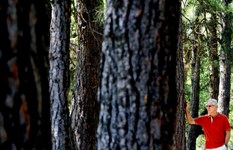 control structures in some circumstances, but indicated that results vary by soil type, climate conditions and levee design. "These results cannot be generalized to apply to every levee system," said Maureen Corcoran, an Army Corps research geologist. Trees and their root systems can either increase or decrease levee safety, she said, and must be analyzed on a case-by-case basis. The city of Coeur d'Alene learned this year that hundreds of mature ponderosa pine trees growing along Rosenberry Drive, also known as "the dike road," don't comply with the corps' national levee standards/Becky Kramer, SR. More here. (SR file photo)
Question: Any guesses re: how the U.S. Army Corps of Engineers will respond now that the city of Coeur d'Alene has decided not to be bullied by the agency to clear-cut Dike Road ponderosas?
---
---