Sat., Sept. 10, 2011, 6:15 a.m.
Compton: Wake Up, America!
September 11, 2011. Ten years after, we've become entangled in—yet not won—two wars; gutted our economy, as well as that of much of the rest of the world; and called off the race for space. We are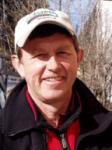 addicted to oil. We will pay anything for it, including the blood of our young men and women. We are addicted to money and what we think it will buy. In a process that began long before the planes crashed into the towers in New York, we squandered the future of our children and our children's children; indebting ourselves in a quest for whatever concoction Madison Avenue, Wall Street and Hollywood tells us that we need to be happy. As a culture, we have stopped thinking, but that may be a latter-day announcement, as it appears that we have never been too prone to thinking. As the reasoning animal, we can be downright unreasonable/Sandy Compton, River Journal. More here.
Question: Do you agree with Sandy Compton's analysis that our country is far worse off today than we were 10 years ago?
---
---