MONDAY, SEPT. 12, 2011, 9:52 A.M.
9/11: Promises Made, Forgotten
Remember how everything was going to be different? After 2,977 people died in coordinated suicide attacks on the World Trade Center and the Pentagon, and the crash of Flight 93 in Pennsylvania, Americans came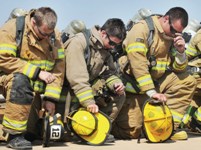 together in a near-unanimous moment of unity and shared purpose. From now on, we would stop being the superficial, America-first consumerists we'd been before 9/11. (Or, depending on your outlook, we'd stop being godless, unpatriotic hedonists.) Either way, this was the call of a generation, the dawn of a new era — one of responsibility, civility and personal sacrifice. Blood donations and volunteerism spiked, church attendance and military service were expected to follow. Then-President George W. Bush called on every American to donate "4,000 hours, or two years" to charitable work. Senate Republicans and Democrats skipped out onto the Capitol steps to proclaim their bipartisanship, saying, "There is no opposition party." But then something happened. We lost our way/Jess Walter, Seattle Times. More here. (AP photo/Medford Mail Tribune, Julia Moore: Firefighters honor the fallen on Sunday in Medford, Ore.)
Question: Is anyone proud of something that occurred in the last 10 years?
---
---