Tue., Sept. 13, 2011, 1:45 p.m.
18YO In Jail, Bledsoe Bike Recovered
The Coeur d'Alene Police Department has provided a photo of Drew Bledsoe's recovered bike.
An 18YO Coeur d'Alene man has been charged with grand theft for allegedly stealing ex-NFL quarterback Drew Bledsoe's bike over the Labor Day weekend. Brandon C. Edgemon (pictured) was in jail on another charge at the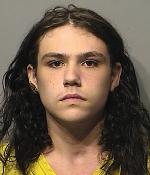 time Coeur d'Alene police found the bike and filed charges against him last Thursday. According to police reports, a 15YO boy told police that Edgemon asked the boy's sister at about 2 p.m. Monday, Sept. 5, if she would "watch the bike for me because the police are looking for it." The boy's sister told him what happened and that the bike was in bushes across the street. Edgemon was upset that the boy locked the bike in his garage and called police. Coeur d'Alene police contacted Bledsoe and made arrangements to return his bike to him. The bike wasn't damaged. Bledsoe and his family had been dining friends during a visit to Coeur d'Alene when the bike was stolen. Complete police report.
---
---