Tue., Sept. 13, 2011, 3:26 p.m.
CdA Hopeful Has Deep BF Roots
Amber Copeland grew up here and graduated from Bonners Ferry High School in 1999. Growing up here, she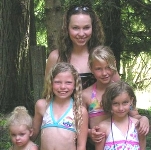 says, her world consisted of people she knew and would come to know. She grew up with two parents in her home, who had a handful with she and her brothers and sisters, Casey, Sean, Jody, Sarah and Billie Jo. Her house, overseen by her parents, Pam and Larry Copeland, wasn't her only place of haven; she could always visit her grandparent's homes, either Tom Copeland's or Ron and Evelyn Smith's. "Oh, don't call him grandpa … he hates that," Amber said, referring to former sheriff and long-time county commissioner Ron Smith. "He prefers grandaddy, guess it's his southern roots!"/Mike Weland, News Bonners Ferry. More here. (News Bonners Ferry photo/Mike Weland: Amber Copeland & her 4 daughters Abigail, Gracie, Lillian and Baylee.
Question: Seems to me that newcomer Copeland has political pedigree. What do you think?
---
---