Tue., Sept. 13, 2011, 12:04 p.m.
NCAA Hits Boise State w/Sanctions
The NCAA found that Boise State lacked institutional control within its athletic department and added additional sanctions, including more football scholarship and practice reductions, to the school's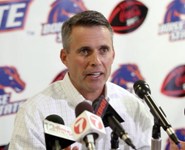 self-imposed penalties. In a 73-page report release Tuesday, the NCAA Committee on Infractions outlined its findings in Boise State's first major infractions case. The committee met with Boise State and several officials for 13 hours on June 10 and concluded "that the scope and nature of the violations in five sports over a lengthy period of time, five years, in combination with a continuous pattern of violations in the men's and women's tennis programs demonstrate a lack of institutional control." The Broncos' highly ranked football team will face scholarship reductions from 85 to 82 in 2011, 2012 and 2013/Brian Murphy, Statesman. More here. (AP file photo, of BSU coach Chris Petersen)
Question: How will the NCAA penalties affect Boise State's reputation?
---
---