TUESDAY, SEPT. 13, 2011, 11:08 A.M.
Olerud, Owen, Yasen Into INW Hall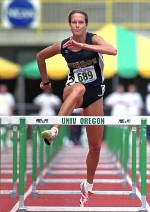 A brilliant baseball season at Washington State University led John Olerud to a stellar Major League career. Ex-Cougar Olerud is one of five individuals to be inducted into the Inland Northwest Sports Hall of Fame on Oct. 25 during festivities that begin at 10:30 a.m. in the Spokane Veterans Memorial Arena. Joining him are two coaching legends and two record-setting women athletes. North Idaho College wrestling coach John Owen and Lewis-Clark State baseball mentor Ed Cheff will be joined in the Hall of Fame by basketball star Tammy Tibbles from Gonzaga University and the late Corissa Yasen, an All-American in track at Purdue/Mike Vlahovich, SR. More here. (AP file photo, of the late Corissa Yasen, of Coeur d'Alene, participating in collegiate heptathlon for Purdue, in 1996)
Question: I can't think of a stronger group of inductees for the Inland Northwest Hall of Fame. Can you?
---
---