Thu., Sept. 15, 2011, 9:04 a.m.
Wolf People Wolf On The Lam
When Mark Earls saw a shaggy, white wolf crossing a road in North Idaho's Hoodoo Valley, he pulled out his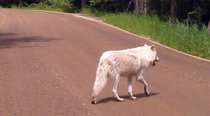 cellphone to snap a picture of it. "What boggled him was that the wolf didn't run away," said his wife, Chelsea. "It didn't appear to be afraid of him." The wolf escaped from Wolf People, which operates a retail store on U.S. Highway 95 near Cocolalla, Idaho, and keeps captive wolves for viewing and filming, according to the Idaho Department of Fish and Game. The wolf apparently got out by digging underneath the fence, said Chip Corsi, Fish and Game's regional manager. By some neighbors' accounts, it has been seen in the area since June, acting like a stray dog. A captive wolf on the lam is a concern because it's used to being around people/Becky Kramer, SR. More here.
Question: What do you make of the story Wolf People workers originally told that the wolf had died?
---
---