Fri., Sept. 16, 2011, 8:15 a.m.
Fernan Lake Crash Victim Released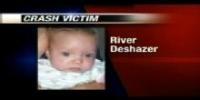 The toddler who was trapped underwater when her family's SUV rolled into Fernan Lake last month is now walking and talking again.14-month-old River Deshazer has been released from Sacred Heart Medical Center. But for Blaine Porter, the firefighter whose quick thinking saved the little girl's life, the whole situation is bittersweet because River's brother didn't make it/Anusha Roy, KXLY. More here.
Question: Isn't it nice to start Friday morning with some good news?
---
---