Fri., Sept. 16, 2011, 10 a.m.
LC Playhouse Launches 'Fiddler'
Steve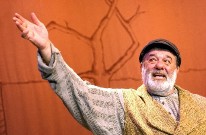 Kane, a friend of mine, will be performing his first major role (Tevye) when the Lake City Playhouse production of "Fiddler on the Roof" opens tonight, running through Oct. 9. Steve looks like Tevya. I've already bought tickets and play to attend during the final week of the show. I admire theater actors because they're willing to get on stage, and they have to remember so many lines. As an eighth-grader, I was one of the beads in a living rosary and forgot the lines to the opening part of "Hail Mary." I was the only one of 53 "Hail Mary" beads that did so. Needless to say, I never had the nerve to perform on stage. How about you? (SR file photo, for illustrative purposes: William Rhodes as Tevya in Coeur d'Alene Summer Theatre production)
Question: Have you ever performed in live theater at any level? Which play? Which role?
---
---