Sat., Sept. 17, 2011, 6:25 a.m.
Dead Hunter Had Family In Boundary
A grizzly bear wounded by a hunter later attacked and killed the hunter's partner Friday after the two men tracked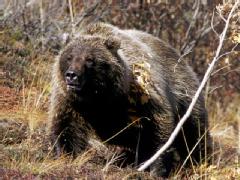 the animal in a remote area along the Idaho-Montana boarder, authorities said. The dead hunter was identified by the Lincoln County Sheriff's office as Steve Stevenson, 39, a member of a hunting party from Winnemucca, Nev. The attack occurred about 10 a.m. PDT in a mountainous, heavily forested region in Lincoln County, Mont., near the Canadian border. Stevenson's hunting partner, 21-year-old Ty Bell, shot and wounded a young male grizzly, believing it to be a black bear, undersheriff Brent Faulkner said. "They tracked the bear into an area of heavy cover where Mr. Stevenson was attacked by the wounded grizzly bear," Faulkner said in a news release late Friday/Meghann Cuniff, SR. More here. And: Anusha Roy's KXLY story & video here (inset photo courtesy of KXLY.
Question: How will this tragedy affect the congressional debate started by the Idaho congressional delegation re: providing more leeway for individuals to protect themselves against endangered grizzlies?
---
---