Tue., Sept. 20, 2011, 1:29 p.m.
Council To Name Dike Road Panel
In "other business" tonight, the Coeur d'Alene City Council will discuss formation of a Dike Road ad hoc committee, to fight the demand by the U.S. Army Corps of Engineers to clear cut trees, including viewtiful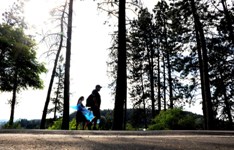 ponderosas, along Rosenberry Drive (b/n the waterfront & North Idaho College). After much uproar, some City Council members have shifted position from reluctant acceptance of the demand to opposition. Many in the community are dead set against cutting the trees as a possible deterrent to a major flood. The army corps has received much criticism in communities around the West, including Sacramento, Calif., for issuing a one-size-fits-all demand to remove trees from flood-prevention levees. The corps maintains that the tree roots weaken the levee. But a study it conducted sez that they sometimes don't. Meanwhile, the Kootenai Environmental Alliance has collected 3,000 signatures in opposition to removing the trees. You can read the council's agenda for tonight's meeting here. (SR file photo: Kathy Plonka)
Question: Have you signed a petition in opposition to tree removal, either on line or in person?
---
---