Tue., Sept. 20, 2011, 9:36 a.m.
PETA To Promote Cause Via Porn
PETA wants to get into porn to make people more aware of animal abuse. The Norfolk-based animal-rights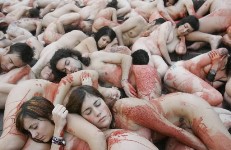 group has applied to launch a website under the soon-to-be-available ".xxx" domain, which will feature pornographic sites, Lindsay Rajt, the organization's associate director of campaigns, said Monday. "As soon as we heard that the.xxx domain was becoming available, we thought that would be triple extra effective in helping us bring our important issues of animal rights and eating a vegan diet to a greater number of people," said Rajt, who is based in Los Angeles. The site, she said, will have nudity and "sexually suggestive content" but not hard-core porn: "A lot of people distinguish between erotica and pornography, and this will be erotica"/Philip Walzer, Virginian Pilot. More here. (AP file photo)
Question: Will this help or hinder PETA's cause?
---
---