Wed., Sept. 21, 2011, 10:57 a.m.
Kootenai Health Buying ♥ Clinics NW
Kootenai Health plans to buy Spokane-based Heart Clinics Northwest, the Coeur d'Alene-based medical center said today. The acquisition will expand cardiac care in the region and enable residents to receive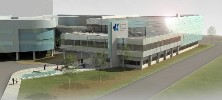 comprehensive cardiac care closer to home, community-owned Kootenai Health said in a news release. "This relationship blends Kootenai Health's strengths of quality, a positive culture and great value with the clinical excellence and breadth of services provided by Heart Clinics Northwest," Jon Ness, CEO of Kootenai Health, said in prepared statement. Kootenai Health will employ the physicians and staff of Heart Clinics Northwest, which has offices in Coeur d'Alene, Spokane and Sandpoint as well as satellite clinics throughout North Idaho, Eastern Washington and western Montana/SR. More here.
Reaction?
---
---