Mon., Sept. 26, 2011, 8:25 a.m.
Hucks: Hammer Attack Effect Lingers
Often, readers move on quickly after a horrific accident or crime, while victims are left to deal with injuries and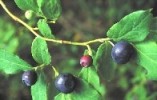 shattered lives. Take Yvonne Wallis, for example. She was one of the four victims of that hammer attack by a deranged Bayview neighbor pre-Christmas 2010. Daughter-in-law Patty Heath died in the attack. Suspect Larry Cragun is in jail awaiting trial. Yvonne wears a blue football helmet to protect her fragile skull. She has undergone two serious surgeries and faces another at University of Washington, to have a permanent plate installed in her skull. Herb Huseland, a good friend who transported her to Seattle this summer, reports: "Nothing is guaranteed. She is still in a life-threatening condition, and without great care could fail to survive"/DFO, SR Huckleberries. More here.
SR weekend columns:
Question: Do you know someone who was severely injured in a violent attack?
---
---