Mon., Sept. 26, 2011, 5:28 p.m.
KEA Blog: Press Cleanup Edit Misfires
re: Editorial: Kootenai County residents face double, triple sewer rates/Coeur d'Alene Press
KEA Blog response: The paper is evidently calling for some sort of misguided citizen uprising against yet-to-be-determined sewage rate increases caused by yet-to-be-permitted sewage treatment upgrades. Wildly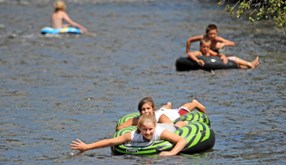 missing the mark though, the CDA Press does the region no favors. In fact, some 13 years into an impossibly complicated process, the polluted Spokane River and particularly he green-slimed and oxygen-starved Long Lake finally have a reasonable cleanup plan that requires significant pollution reductions to all the dischargers on the River, including Idaho's. Despite the editorial's unfounded and hyperbolic claims, Idaho municipalities discharging onto the River are already committed and are hard at work designing and testing improved sewage treatment technologies. Full response here. (Jesse Tinsley SR file photo: Tubers on Spokane River)
Question: How import to you is the water quality in the Spokane River?
---
---