Wed., Sept. 28, 2011, 5:24 p.m.
Column: Viks Didn't Run Up Score
The lopsided score on Friday night raised some eyebrows around the state, so much so that Sandpoint athletic director Tom Albertson was fielding calls on Saturday from colleagues who hadn't seen the game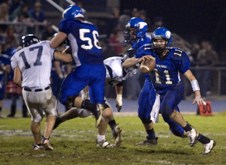 accusing the Vikings of running up the score. One caller had heard a rumor that Albertson and Coeur d'Alene athletic director Todd Gilkey engaged in a shouting match after the game. The funny thing was, Gilkey was not even present at the game. I had a front row seat for the action, and didn't feel that the Vikings ran the score up, despite the high total. Running the score up usually occurs when starters are left in and teams continue to throw in the second half, and the Vikings did neither. They're just a damn good football team, plain and simple, and could probably hang a similar number on a lot of 4A teams in Idaho/Eric Plummer, Bonner County Bee. More here. (SR file photo: Coeur d'Alene QB Chad Chalich, with ball, threw for three touchdowns against Lake City last year)
Question: What do you think about the lopsided 88-12 victory by powerhouse Coeur d'Alene High over Sandpoint last week?
---
---