Wed., Sept. 28, 2011, 8:40 a.m.
Crapo, Risch Rip Immigration Change
Recent immigration policies enacted by the Administration undermine the rule of law, say Idaho Senators Mike Crapo and Jim Risch and a group of Republican senators in a letter to the President urging to remand the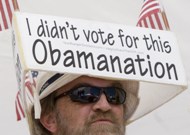 proposals. The directives in question call for the Department of Homeland Security (DHS) to perform case-by-case reviews, focusing on criminals and public menaces, while closing the books on those not considered a threat. Additionally, U.S. Immigration and Customs Enforcement (ICE) Director John Morton recently directed the agency to use its "prosecutorial discretion" in deciding which of the pending 300,000 federal deportation cases should be prosecuted. If DHS determines that a particular individual is not a criminal threat, they could be granted conditional permanent residency. In a letter sent to the President yesterday, the senators ask that DHS rescind the proposals dealing with increased use of prosecutorial discretion and abide by existing immigration laws/Mike Crapo news release. More here. (AP file photo: An supporter of tough immigration laws protests in Arizona)
Question: Who do you trust more to deal with immigration policy -- congressional Republicans or the White House and congressional Democrats?
---
---