Wed., Sept. 28, 2011, 9:25 a.m.
St. Maries Paper Wants Tribe Records
The Idaho State Lottery refused to provide records sought by this newspaper under a public records request. The Gazette Record requested public records related to the lottery commission's oversight of the Coeur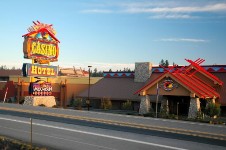 d'Alene Tribe's compliance with state law relating to its casino. The Gazette Record hired the law office of Christensen & Doman of St. Maries to pursue the request following the newspaper's reports last month about the tribe's mandated contributions to local public schools. The tribe is required by law to donate "5 percent of its annual net gaming income for the support of local educational programs and schools on or near the reservation." Area schools had not received money from the tribe since 2009. When questioned, tribal officials said donations had been made, but would not reveal which school districts received the contributions. Shortly after the story broke, the tribe gave $210,000 to the Plummer/Worley school district/St. Maries Record Gazette. More here. (Courtesy photo: Coeur d'Alene Casino)
Question: If the tribe is required by law to provide a certain level of gaming profits to area schools, shouldn't the record of disbursements be public?
---
---