Wed., Sept. 28, 2011, 9:46 a.m.
Times-News Apologizes For Palin Jab
In yesterday's editorial regarding the erroneous payment of unemployment benefits in Idaho, comparisons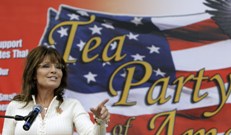 were made to the rate of errors in Alaska, Oregon and Washington. While Idaho's percentage of errors was the lowest of the three states (9 percent), only former governor Sarah Palin of Alaska was cited as presiding over a state whose error rate was higher (11.8 percent). This was a shabby inclusion on our part. If a governor or governors had to be mentioned (they did not), we should have taken a shot at either current Democratic Oregon governor John Kitzhaber, former Democratic Oregon governor Ted Kulongoski (12.2 percent error rate) or Democratic Governor Christine Gregoire of Washington (14.1 percent error rate) because those state's error percentages were much higher. We apologize/Twin Falls Times-News. (AP file photo: Sarah Palin shown in Iowa Sept. 3)
Question: Was an ap-hollow-gy necessary?
---
---