Thu., Sept. 29, 2011, 9:31 a.m.
Olson: Negotiate Tribe Hunting Rights
Native and non-native residents of the Coeur d'Alene Indian Reservation are going to have to work out a local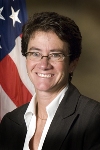 solution to their latest conflict over the right of tribal members to hunt on private property if they want to avoid a drawn-out court battle, a federal official said Tuesday evening. Speaking at a confrontational meeting at the Plummer Community Hall, Wendy Olson (pictured), U.S. attorney for Idaho, said there is no single source of law that answers the question of whether tribal hunters are trespassing on nontribal land. "I don't get to make that decision," Olson said in response to those in the crowd looking for an immediate resolution to a decades-old bone of contention. "Ultimately," she said, "it will be resolved through litigation." But the federal government's highest law enforcement officer in Idaho advised leaders on both sides to not go down that long trail/Kevin Graman, SR. More here.
Question: Do you think it possible for Benewah County to negotiate in good faith with the Coeur d'Alene Tribe?
---
---