Thu., Sept. 29, 2011, 8:08 a.m.
Joe Tofflemire, Ex-NFL Player, RIP
He bought himself a snub-nosed football shoe in the ninth grade to further his ambitions as a place-kicker, so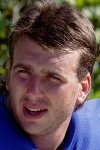 instantly – and forever – Joe Tofflemire was known as "Toe." But soon enough he grew into a complete player – one of the most honored linemen in Pacific-12 Conference history, a second-round NFL draft pick – and, to his family and friends, a complete inspiration. So their sorrow was as profound as their shock in learning that Tofflemire had died Tuesday at Kootenai Health in Coeur d'Alene after being found unconscious and unresponsive in his Post Falls home. The former Seattle Seahawks center was 46. "He was warm, sharing, caring, compassionate," said Nick Menegas, Tofflemire's coach at Post Falls High School. "His evolution from boy to man was so rewarding to watch. He was humble and kind – and so grateful for his opportunities"/John Blanchette, SR. More here.
---
---