Shoshone Conservative: Rex Rammell is to Idaho politics what Lindsey Lohan and Britney Spears are to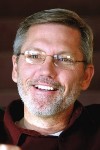 entertainment - like watching a trainwreck in slow motion. Before, yeah, there was the whole misguided independent Senate campaign, and, yeah, he said some stupid things ("Obama tag"), but, on the whole, nothing goofier than Biden or Bachmann. And his views weren't any further "out there" than most of the Idaho Right. But, now - it's like he's had some sort of nervous breakdown or something. Seriously. The guy needs professional help.
Question: Which other Idaho/national leaders do you consider as extreme as Rammell?