Fri., Sept. 30, 2011, 3:10 p.m.
Egan: Sometimes, The Bear Gets You
"You should not hike alone without bear spray," a ranger says. This is more imperative than suggestive. "The bears are active right now. They've re-colonized areas where they used to roam." Wyoming has about 600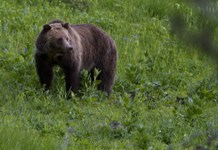 grizzlies. I tell her I've never hiked with bear spray, but the ranger is insistent. I go to one park store, and then another, but find the shelves empty. There's been a run on bear spray. Finally, after calling around, a clerk finds the cylinder that will provide an illusion of comfort, the last one available. When a grizzly (capable of top speeds of 30 miles an hour) charges, you are supposed to stand your ground, flip the safety from the top, point and spray. This fog made of the essence of hot cayenne peppers is apparently enough to send a 500-pound mammal back in cowering retreat. So it says. ¶But the bear spray is $52. Mmmmm. That seems confiscatory. But no, it's the going rate. So, quick math: how much is a life worth? And, how stupid would I be to give it up for want of $52/Timothy Egan, New York Times. More here. (AP file photo -- of Yellowstone bear)
Question: How much do you rely on bear spray in grizzly country?
---
---