Fri., Sept. 30, 2011, 9:24 a.m.
Hoffman: Cities Join 'Nanny State'
For all the complaints about city budgets being stretched to the limit, our local governments here in Idaho are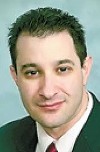 at the forefront of growing the nanny state with as much gusto as the federal government. Examples abound in just the last month. Example one comes from the city of Boise, where statists (those people who believe in and worship the power of government) are contemplating a ban on smoking in local bars. ... Not to be outdone, Sandpoint is where city officials have passed an ordinance banning the use of cell phones while driving -- whether talking or texting. That's apparently because the police chief thought it was too hard to just ban texting -- so now every activity in the phone-car continuum is now illegal. If you're in Sandpoint, beware. Even if you're not hurting anyone, you're now a criminal/Wayne Hoffman, Idaho Freedom Foundation. More here.
Question: Do you consider actions taken by city councils in Idaho against smoking and cellphones to be part of a "nanny state" mentality?
---
---