Fri., Sept. 30, 2011, 9:56 a.m.
Moscow Concerned About CdA Game
There had been talk in the Moscow community about the possibility of canceling or forfeiting the school's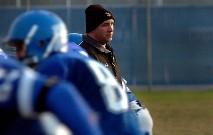 October 7th game against Coeur d'Alene. KREM 2's Chris Nguyen spoke with Moscow Principal Bob Celebrezze today. Celebrezze was adamant that a forfeit had not been discussed, but he did acknowledge that the school had some concerns about the game. He chose not to elaborate on what exactly those issues were, but said "we have been talking with Coeur d' Alene administration about our concerns about the game, and that's all I can tell you"/Chris Nguyen, KREM. More here. (SR file photo -- of Coeur d'Alene High coach Shawn Amos)
DFO: HucksOnline heard through the grapevine Thursday morning that Moscow is expected to tell Coeur d'Alene late this afternoon whether it'll play the game or not.
Question: Should the 5A schools in North Idaho try to reinstitute football games with bigger schools in the Spokane area?
---
---