Mon., April 2, 2012, 2:11 p.m.
De Pasquale: Living American Dream
The Left and their cohorts in the media love a personal story to illustrate the need for a government-centered society. Here's one they wish they could manipulate. It's the story of a single mother who sacrificed a lot to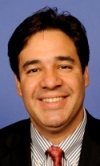 raise her only son in Puerto Rico. Rather than teach him that he's a victim of his circumstances in life, his mother taught him that with hard work and good character, he could achieve anything. She taught him that the success of others should be emulated, not envied. Eventually, the woman took her now-teenage son to Las Vegas, where she worked long hours in the hospitality industry. She also enrolled at the University of Nevada at Las Vegas. She took one class per semester until she earned her degree in education and became a teacher. Meanwhile, the boy learned from his mother's work ethic and determination/Lisa De Pasquale, Townhall. More here.
Question: Do you still consider this country to be a land of opportunity for those willing to work hard to succeed?
---
---