Mon., April 2, 2012, 8:14 a.m.
Dead Wolf Photos Stir Passions
Photos of dead and maimed wolves have pervaded the Internet in recent weeks, raising tensions in the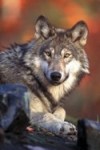 Northern Rocky Mountains over renewed hunting and trapping of the once federally protected animals. Escalating rancor between hunters and animal rights activists on social media and websites centers on pictures of wolves killed or about to be killed. Many have text celebrating the fact that Western states are allowing more killing of the predators. Commenting on a Facebook-posted image of two wolves strangled to death by cable snares, an individual who identified himself as Shane Miller wrote last month, "Very nice!! Don't stop now, you're just getting started!"/Laura Zuckerman, Reuters. More here.
Question: Is Idaho doing a good/bad job in regulating the number of wolves in the state?
---
---