Wed., April 4, 2012, 8:16 a.m.
Carlson: Elder Larry EchoHawk
Idahoans of all persuasions, political as well as religious, should congratulate their former attorney general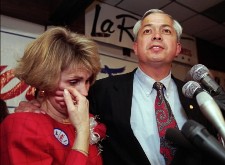 on his call to serve as a general authority and a member of the LDS Church's First Quorum of the Seventy. It is an honor long overdue. EchoHawk, 63, was also the 1994 Democratic nominee for governor, but lost narrowly to former Lt. Governor Phil Batt. The Wilder State Senator won 52% to 48% giving EchoHawk the distinction of being the first Native American to come close to being elected governor. EchoHawk, a Pawnee, is currently the Interior Assistant Secretary for Indian Affairs. To know Larry is to like him. He's just one of those truly fine people all too rare nowadays/Chris Carlson, Ridenbaugh Press. More here. (AP file photo: Terry EchoHawk wipes the tears away as her husband, Larry EchoHawk, concedes his bid for Idaho governor on Nov. 9, 1994, in Boise)
Question: Do you remember Larry EchoHawk?
---
---