Wed., April 4, 2012, 4:13 p.m.
Woman Nabbed w/Drugs Inside Body
A Coeur d'Alene woman was arrested with methamphetamine inside her vaginal cavity this morning.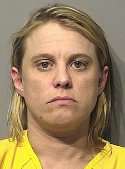 Detectives with the North Idaho Violent Crimes Task Force located Christine R. Davis-Jasinks, 36, at the Coeur d'Alene Casino and searched her home at 114 Borah Ave. in Coeur d'Alene about 5:30 a.m. today. Davis-Jasinks was booked into jail for drug charges for the meth found in her body and for meth and drug paraphernalia found in the home. A SWAT team used an armored vehicle to approach the home. Police used the extreme measures because of "information about several weapons inside the residence as well as four pit bull dogs," according to a news release by Coeur d'Alene police Sgt. Christie Wood/Meghann M. Cuniff, Sirens & Gavels. More here.
Thoughts?
---
---