Thu., April 5, 2012, 10:07 a.m.
This Girly-Girl Likes To Shoot Guns
I have a confession to make. I'm a girl. A girly-girl. I don't like playing team sports, sweating, getting dirt on my hands or fishing. Well, I've never actually gone fishing, but it involves bait and bad smells, so I'm confident it's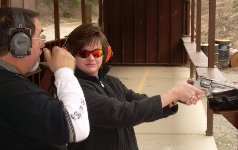 not for me. I like pretty china, pink and smelling good. The irony of course, is that I have four sons, a husband and two male cats. My menfolk don't mind me smelling good or wearing pink, but pretty china is wasted on them. They're not interested in the plates – just what's on them. Every so often, I need to spend time with my own kind – girls' night out saves my sanity. Usually, I meet friends at an upscale restaurant where we enjoy food that we haven't cooked and estrogen-laden conversation. It's all very civilized. In fact, I started to feel like girls' night out had become a little too tame and predictable. Then I heard some friends were planning a girls-n-guns get-together at a local shooting range. Revolvers, zombies and ammo? "I'm in!" I said/Cindy Hval, SR Front Porch. More here.
Question: Do you enjoy guns or target shooting?
---
---