Sat., April 7, 2012, 1:10 a.m.
Mary Targets Anti-Recall Young Mother
I'd like to welcome Sara (or is it Susie?) Meyer to Mary Souza's connect-the-dots world beyond the looking glass. In her latest newsletter, Mary attacks the young mother of an 18MO baby (pictured) because she dared to take a stand against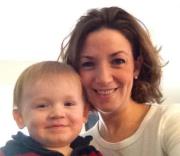 Mary's attempt to recall Mayor Sandi Bloem and three City Council members. Mary's famous for her connecting dots to cast political opponents in a bad light for her followers. Mary says this of Sara, whom she also calls Susie: "You all know there's so much more … the arrogance, the disrespect, the 'we know better' attitude. And that continues still. Did you see in this morning's CdA Press, where Sara Meyer, who is a big supporter of the Mayor and is the daughter-in-law of Steve Meyer who, along with Charlie Nipp, owns the whole 1/2 block across from McEuen, says 'We are not going to let these people take over our town.' These people? Her town? Mayor Bloem and Co. would not let WE, the people, have an advisory vote, but now 'Susie' Meyer says it's her town?" I'm surprised Mary didn't trash the baby for being Steve Meyer's grandchild -- and one of the nasty possible future users of an upgraded McEuen Field. Sheesh.
Update: Mary corrects name in follow-up: "Excuse me, the daughter in law of Steve Meyer is Sara Meyer, not Susie Meyer. Happy Easter!"
Thoughts?
---
---