Mon., April 9, 2012, 11:59 a.m.
Raul: Mitt Should Discuss Faith But …
First District GOP Rep. Raul Labrador told a national TV audience Sunday that likely GOP presidential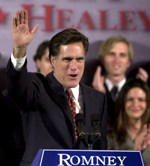 nominee Mitt Romney shouldn't attempt to mediate concerns about Mormon theology. Appearing on NBC's "Meet the Press" Sunday as part of a panel on religion and politics, Labrador suggested Romney talk about his work as a missionary and as a bishop and stake president. Moderator David Gregory asked Labrador, who also is LDS, whether Romney should squarely address "discomfort" with theological concerns. Some evangelicals question Mormonism, even labeling it a cult/Dan Popkey, Idaho Statesman. More here. (AP file photo of Mitt Romney)
Question: What do you want to know re: Mitt Romney's approach to faith?
---
---