Tue., April 10, 2012, 9:09 a.m.
Marine Faces Ouster For Obama Dis
Marine Sgt. Gary Stein, who is facing dismissal for posting critical comments about President Obama on Facebook, accused the review board that recommended he be discharged of basing its decision on "personal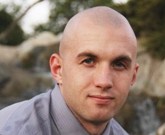 opinion" Tuesday. "I believe it was more based on personal opinion on the three members than it was based on the legalities on the case. They denied four expert witnesses that were there to talk about the legalities. They didn't even want to hear or take written testimony from them," said Stein on CNN's "Starting Point" Tuesday morning. ... The three-member review board recommended last week that Stein receive an "other than honorable" discharge, which would include a loss of benefits and reduction in rank, for saying he would not follow orders he believed unlawful and for calling Obama a "domestic enemy" on his "Armed Forces Tea Party" Facebook page/Geneva Sands, The Hill. More here. (AP photo)
Question: Should Marine Sgt. Stein be booted from the Armed Services for posting critical remarks about President Barack Obama?
---
---