Tue., April 10, 2012, 8:19 a.m.
'Romeos' Lure Asotin Women Online
Online dating is leading to some broken hearts and empty bank accounts in Asotin County. Asotin County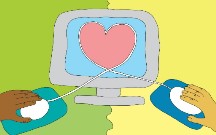 sheriff's Capt. Dan Hally said in the past year, several local women have reported virtual dating scams that involved sending a stranger money or unknowingly participating in criminal activity. In each case, the woman believed she had met the "love of her life" online, Hally said. "So many people overlook huge red flags because of an overwhelming fear of being alone. They have never met these men in real life, and they are desperate for companionship"/Kerri Sandaine, Lewiston Tribune. More here.
Question: I know couples who met online and are happy together. But I doubt that I would trust online dating if I was single. How about you?
---
---