Wed., April 11, 2012, 2:46 p.m.
Florida To Charge Zimmerman Today
Florida State Attorney Angela Corey will hold a 6 p.m. ET news conference today to "release new information"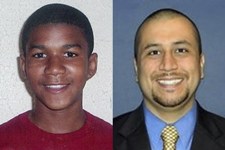 about the shooting death of Trayvon Martin (left). The Associated Press is reporting that she will announce charges against George Zimmerman (right), the 28-year-old neighborhood watch volunteer who has claimed he shot the 17-year-old in self-defense Feb. 26 in Sanford, Fla. The unidentified law enforcement source who spoke to the AP did not know the exact charge or charges that Corey is expected to announce at the state attorney's office in Jacksonville. Zimmerman is also expected to be arrested soon, the AP said/Michael Winter, USA Today. More here.
Question: Does the projected charge fit the crime?
---
---