Thu., April 12, 2012, 2:35 p.m.
Ozzie, Commies, Stay-At-Home Moms
Bad luck like stupid comments seems to come in threes. Ozzie Guillen, the mouth-running, currently suspended manager of the Miami Marlins baseball team is at once the most politically incorrect man in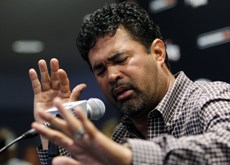 America and the luckiest. He desperately needed to get off the front pages after taking Miami's re-branded team, cozy in its new stadium, and running his mouth straight into south Florida's visceral hatred of Fidel Castro. Ozzie says his comments in Spanish praising Fidel lost something in translation, but what Guillen really mangled with his ill-considered comments about the country's least favorite commie was an old and simple rule. Loud mouth baseball managers really should never comment on anything other than what happens between the lines. Danger lurks out there beyond the friendly confines – remember Marge Schott – where men play the boys game. But thanks to cable television, just as it looked like Ozzie might still pay for his Fidel praising with his job, two other stupid comments make Ozzie seem so last season/Marc Johnson, The Johnson Report. More here.
Question: Have you ever said something stupid in word, letter or cyberspace you wished you could take back?
---
---