Fri., April 13, 2012, 8:28 a.m.
Task Force Leader Denounces Recall
Norm Gissel, a long-time leader of the Kootenai County Task Force on Human Relations and one of the attorneys who brought down the Aryan Nations, calls the recall effort against Mayor Sandi Bloem and three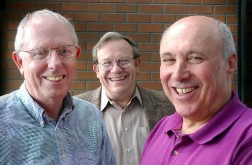 Coeur d'Alene council members "nonsense." After listing the many accomplishments of the Bloem administration (Kroc Center, Education Corridor, Coeur d'Alene Library, etc.), Gissel writes of those who reserve their "ridicule and hatred" for the projects. Quoth: "Yelling from the bleachers lilke the left field fans at Wrigley Park, they opposed anything and everything that did not square with their peculiar visions of the past and of a nihilistic future. When faced with the prospect of improving a city park, it became on improvement too many. The 'Bleacher Boys', now apopletic, have decided on a recall. What nonsense." Full letter here. (SR file photo: Norm Gissel, middle, with two other long-time members of Kootenai County Task Force on Human Relations: Tony Stewart, left, and Marshall Mend, right)
Thoughts?
---
---